DIGITAL PAMPHLET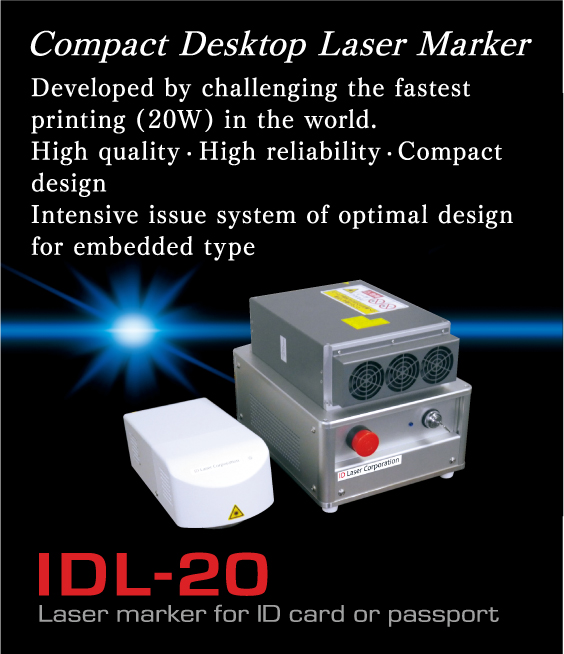 ■Features

●

Marking by the world's fastest speed


Development of special high speed laser engines based on our
special specifications and original control

●

Best image quality


Regarding image processing, we apply Nidec Copal's technology

●

High reliability & high quality


Made in JAPAN quality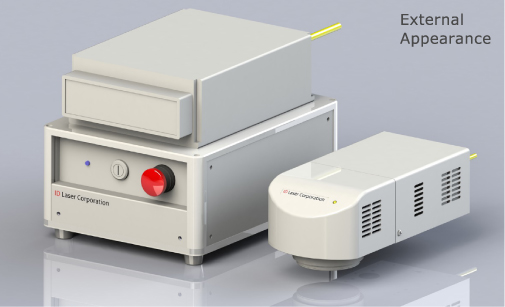 ■Specifications
|  Items | Specifications | Comments |
| --- | --- | --- |
| | | |
| --- | --- | --- |
| Laser Type | Fiber Laser | |
| Nominal Output Power | 20W | |
| Output Fiber Length | (2m) | |
| Average Output Power | 20 -0,+1W | |
| Pulse Width | 10-250ns | 10, 20, 30, 60, 80, 100, 200, 250 |
| Output Power Stability | <5% | |
| Emission Wavelength | 1064±3nm | |
| 1064±3nm | <120W | |
| Operation Temperature | 15-32℃ | |
| Operation Humidity | 20-80% | No condensation required |
| Laser Safety | Class 4 | |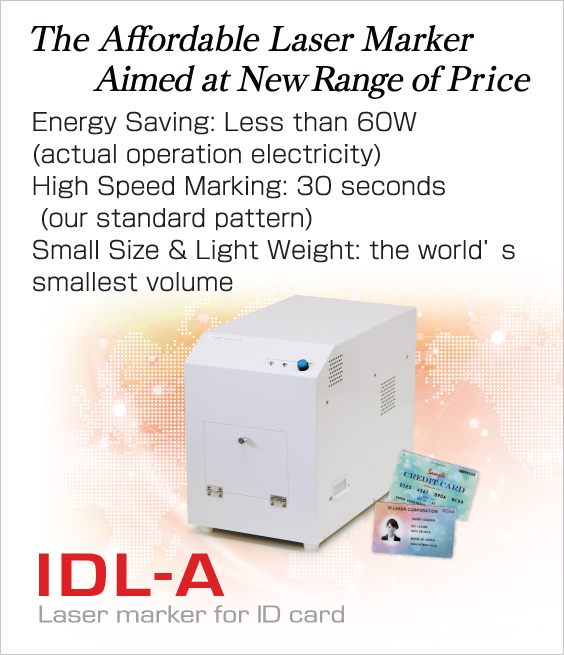 ●

New Engine: Adopted a laser engine of new oscillation method (Patented)

●

Energy Saving: Operating with an AC adapter (actual operation electricity is 60W)

●

High Speed: 30 seconds marking on a standard card

●

High Speed: 30 seconds marking on a standard card

●

Small Size & Light Weight: Achieved downsize and lightweight for easy carry (18.9kg)

●

Safety: Obtained Class1 Laser Safety (JIS C 6802:2014)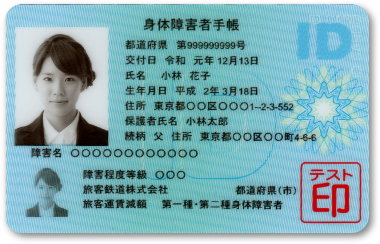 ■Specifications
| | |
| --- | --- |
| Laser Type | New type fiber laser |
| Average Output Power | 2.2W |
| Pluse Width | 60-90ns |
| Output Power Stability | <5% |
| Emission Wavelength | 1064nm |
| Power Consumption | 60W(AC Adapter 90W) |
| Oparation Temperature | 15-30℃ (Recommend 20-25℃) |
| Operation Humidity | 20-80% (No Condensation required) |
| Laser Safety | Class 1 (JIS C 6802:2014) |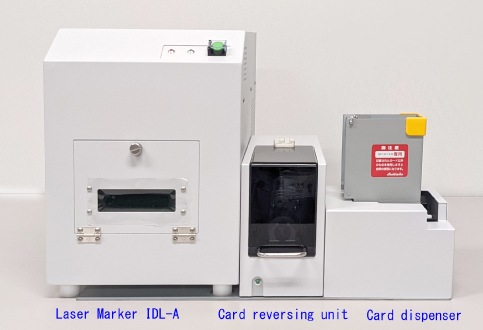 IDL-A System
Laser: IDL-A
Card Reversing Unit: IDL-RM Unit
Card Dispenser: CD-1500 (Asahiseiko)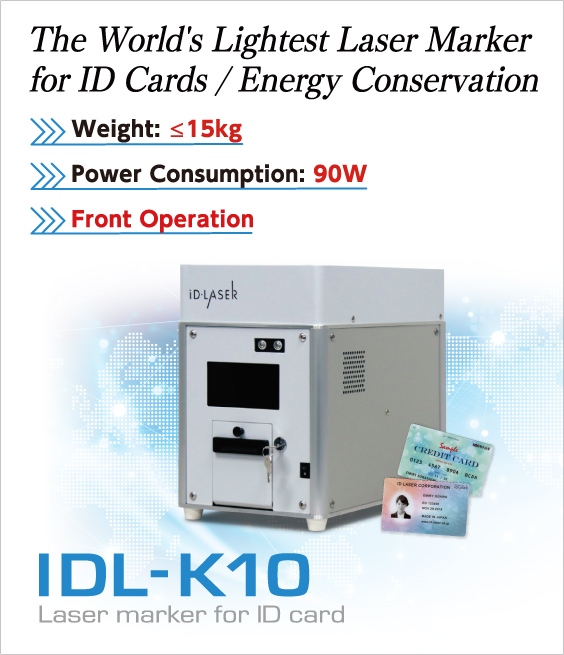 ●

Good Cost performance

●

Reviewed cost thoroughly by reviewing functions

●

Front operation to improve workability on a desk

●

Achieves the world's smallest and lightest weight (15kg)

●

Marking speed:21 seconds (our designated pattern)

●

Newly developed original laser control PCB

●

SDK provision and IDLGMarkCS, the simple application which is specialized in card marking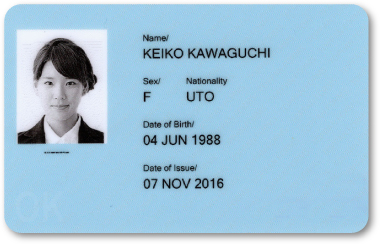 ■Specifications
| | |
| --- | --- |
| Laser Type | New type fiber laser |
| Laser Output | 2.2W |
| Response Frequency | 10-60KHz |
| Output Power Stabillty | <5% |
| Laser Wavelength | 1064nm |
| Power Supply | AC adaptor AC10/230V 50Hz/60Hz 90W |
| Operation Environment | Temperature 15-30℃ Humidity 20-80% [No condensation required] |
| Weight | 15kg |
| Interface | USB 2.0 |
| Laser Safety | Class 1 (IEC 60825-1:2014) |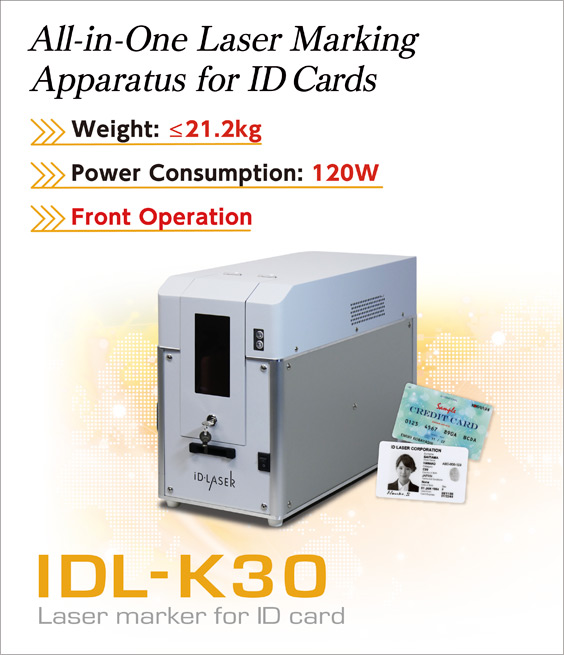 ●

Equipped High Speed Laser Engine (MOPA Method Fiber Laser 20W)


For achieving high speed marking, MOPA laser is adopted.

●

Newly Developed Original Laser Control PCB


IDLGMarkCS the simple application specialized in card marking and SDK provision.

●

High Cost Performance


Laser optics, mechanics, and electronics are all reviewed to lower price.

●

Smaller Size by Simple Mechanical Design


The world's smallest all-in-one apparatus by adopting the clipper mechanism (patent pending).

●

High Image Quality


Our original software achieves photo quality (dot gradation).

●

Energy Saving


120W or less by energy saving design. (AC adaptor 120W)

●

All-in-One Functions


Card supply, double-sided marking, and MLI are standard features.
QA cameras, CLI, and chip encording are available as options. (individual overseas support)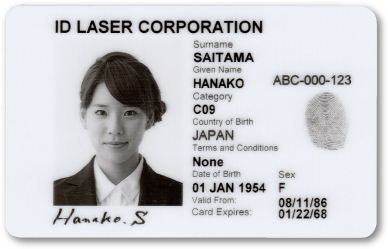 ■Specifications
| | |
| --- | --- |
| Marking Method | Direct marking on cards by laser beam |
| Laser Type | MOPA fiber laser |
| Laser Wavelength | 1064nm |
| Laser Output | 20W |
| Response Frequency | 10-2000KHz |
| Cooling System | Air cooling |
| Card Type | ISO CR-80-ISO 810 (JIS X6801) Plastic card |
| Card Size | ID-1 85.6mm×54.0mm Thickness 0.76mm |
| Marking Resolution | ≥600dpi |
| Marking Time | 6 seconds (using our standard pattern) *1 |
| Functions | Micro characters, two-dimensional codes such as QR code, etc. |
| Operating Environment | Temperature 15℃-30℃ Humidity 20-80% (Required no condensation) |
| Dimensions | Width 250mm Height 397mm Depth 540mm |
| Weight | ≤21.2kg |
| Interface | USB 2.0 |
| Power Supply | AC adaptor AC100V 50Hz/60Hz 120W |
| Consumables | Laser compatible cards |
| Safety | CE Marking / DEMKO *2 |
| Laser Safety | Class 1 (No laser administrator required) |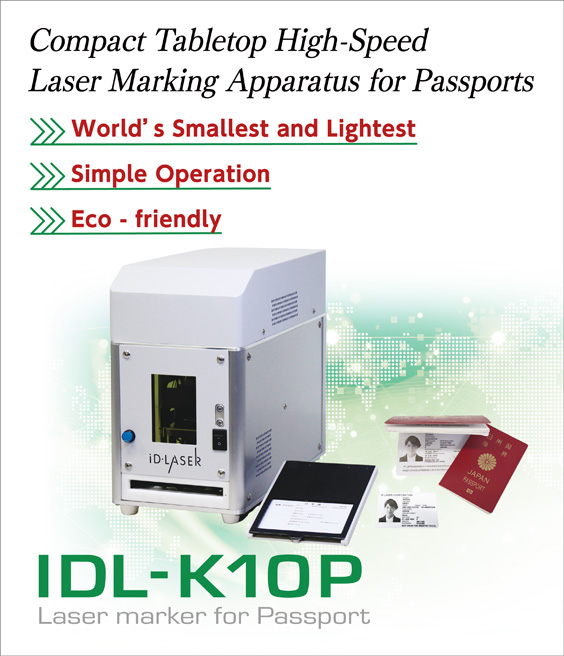 ●

Equipped High Speed Laser Engine (MOPA Method Fiber Laser 20W)


Adopted 20W MOPA laser achieves high speed marking.

●

Equipped Original Laser Control PCB


IDLGMarkCS the simple application specialized in card marking and SDK provision.

●

Great Deal


Laser optics, mechanics, and electronics are all reviewed to lower price.

●

Smaller Size by Simple Mechanical Design


Simple mechanism with card tray system.

●

High Image Quality


Our original software achieves photo quality (dot gradation).

●

Energy Saving / Eco-friendly


120W or less by energy saving design. Compact and lightweight to reduce transportation impact.

●

Correspondence Various Types of Cards


Correspondence booklet type passports and card sizes of ID-1 and ID-3. (ISO/IEC7810)

●

XY Offset Registration


Apodted automotic alignment function by a built-in camera. OCR reading function.

●

Options


Contactless IC R/W is able to read/write to/from IC chips.
MLI or CLI support available.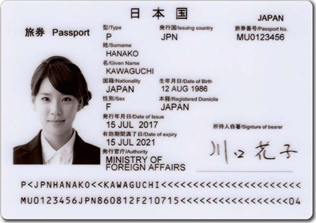 ■Specifications
| | |
| --- | --- |
| Marking Method | Direct marking on cards by laser beam |
| Laser Type | Fiber laser 20W (MOPA) |
| Laser Wavelength | 1064nm |
| Laser Control PCB | IDL_X (our original) SDK provided |
| Cooling System | Air Cooling |
| Card Material | Plastic card (PVC, PET-G, PC) |
| Card Sizes | ID-1, ID-3, booklet passport |
| Marking Resolution | 600dpi or higher |
| Marking Time | 26 seconds (our original ID-3) *1 |
| Functions | Micro characters, two-dimensinal cods such as QR code, etc. |
| Operating Environment | Temperature 15℃-30℃ Humidity 20%-80% (Required no condensation) |
| Expendables | Applicable cards only (no consumables such as ink ribbons) |
| Dimentions | W=210mm D=416mm H=365mm |
| Weight | 16kg(unit weight) 20kg(packing weight) |
| Interface | USB2.0 or (LAN *2) |
| Power Supply | AC adapter AC 100V to 240V 50/60Hz PSE Marked |
| Safety | CE marking / DEMKO *3 |
| Laser Safety | Class 1 (No laser safety manager required) |
The marking software is IDLG Mark CS.
Please contact us for SDK etc.
*1 Our standard marking time (not including transport time, etc.)
*2 IC Card W/R is USB2.0. Planned LAN support (2024)
*3 CE marking and DEMKO will be acquired 2024
conforms to the Electrical Appliance and Material Safety Act in Japan