MESSAGE
Thank you for visiting ID Laser Corp. web site.
In April 2017, we established our company that utilizes laser marking technology for ID (identification) cards.
There are lots of companies for industrial lasers; however, our company specifies to develop laser marking devices for ID cards and passports.
We will propose to you individual solutions which based on the experiences and knowledge derived from our previous jobs on the field of printer technologies.

We challenge the global market with the manner
BE FAITHFUL, BE MODEST, and BE SINGLE-MINDED
We provide products that AFFORDABLE price, QUICK work, and CLEARLY marking.
We work hard for the development of our products that meet customers' demands from all over the world.
MESSAGE from REPRESENTATIVE

We aim to be the best company for developing system products which meet market needs.

I established ID Laser in 2017 while getting cooperation from fellows of my previous job.
I am an engineer of machinery, and sailed this business with little knowledge of company management.
We are a fabless company which mainly focuses on R&D.
Our development goal is "to be the world's best company of laser marking device for ID (identification)" with support from cooperative companies and client companies.
Five years have passed since establishment, the results of our business are more than we planned so far.
Even if there aren't opportunities to exhibit our products because of COVID-19, we continue to develop high quality products which meet market needs.

From Saitama Japan toward the top of the world; we will make rapid progress.

ID Laser Corporation
Representative Director Ryoichi Umezawa
CHALLENGERS
(We always challenge to be the best)
CHALLENGERS

(We always challenge to be the best)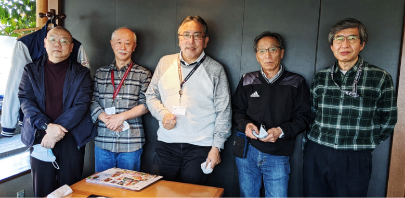 We had previously worked at major precision companies

We gathered to develop the best products in the world. We are professionals on the field of R&D, product design, and quality control.
We have experiences of developing sublimation and melting type thermal transfer printers, sublimate photo printers for business use and ID cards issuing systems like as drivers' license issuing machines. Additionally, we have careers on photographic developing apparatus (photo lab); thus, we are well-experienced on image quality assessment.
Eco-Friend
•No Waste
No waste such as ink ribbons will occur by laser marking method
•Energy Saving
IDL-A needs only 60w (approx.) electricity, compared to ordinal ID cards printers or other companies' laser marking devices need 250w or more
•Packaging
Our packing materials are all cardboard boxes as deplastics

We are challenging the global market with each engineers' thoughts that contribute to realizing a safe and secure world by supplying high secured (anti-falsification) ID cards. We also concern environment as well.